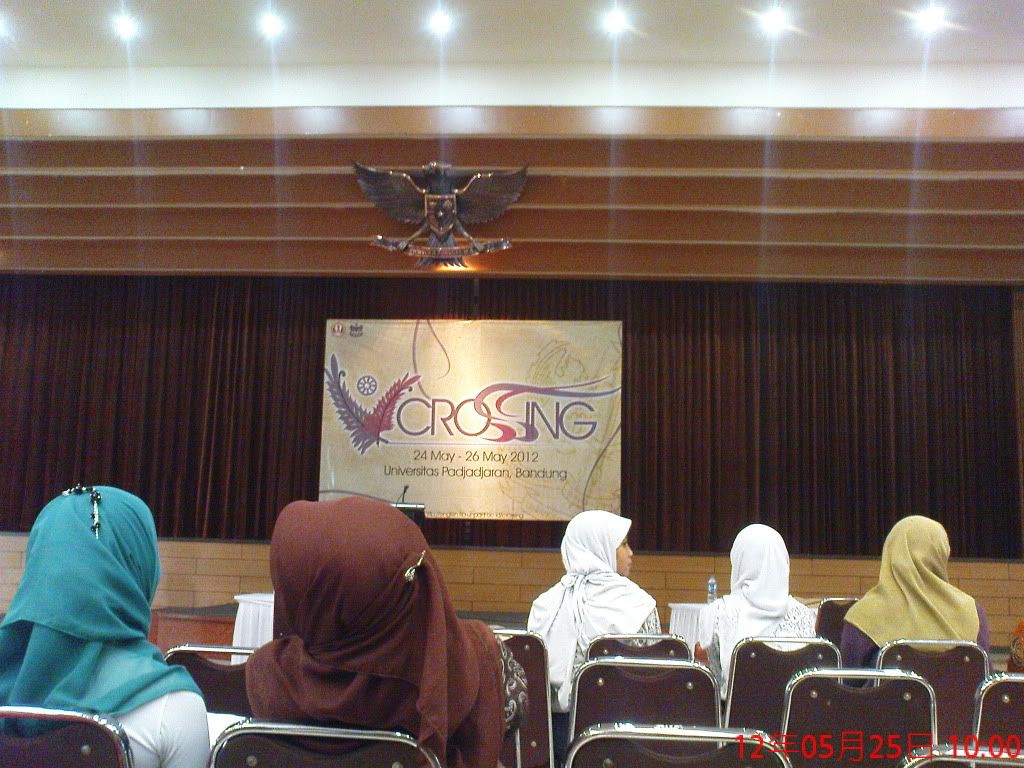 It was started a couple weeks ago, when Ms. Pujay-my English lecturer- told me that it would be better for me to join a speech contest at UNPAD. She right away gave me the website so I could check all the information by myself. After logging on to the website, I found that it's Crossing UNPAD 2012 and there'd be two categories-Senior High School & University students- and also two different competition-Speech and Poetry reading-. Of course I was going to be registered for the speech one, and I just accepted that. Then at first we used to have also Janu for the same competition, and Tia + Lia for poetry reading.
The preparation wasn't very good at the first time. Because we used to have also a preparation(and selection) for my campus debate team for a debate competition in Cirebon at the same time. And it seemed that I always wasn't good enough at debating. Haha! Well, all I could do just admit it. After having a quite short and weird debate preparation with some SICE members who were selected to join the selection, we had Janu and Teh Lai who were going to go to Cirebon at the end.  Then Janu-with perhaps some advice from Ms. Pujay- decided to let other members of SICE to take her part on Crossing UNPAD 2012. She wished that not only her, that would get an experience of joining a competition. So, with that result, we needed one more person to accompany me for speech competition.
While Teh Lai and Janu were debating in Cirebon, I tried to start writing up my speech. And also confused with the main topic that I would try to convey, related to one of the speech themes that I chose, which was, Indonesian culture in the globalized world. At first, I thought that I would try to bring up RENDANG, but I wasn't very sure about it. Because, how could I talk about RENDANG, if I seldom ate it. Right? Then DANGDUT  came up in my mind. I was just like wondering to my DANGDUT experience back then when I was still in Balung-Jember, East Java-. But before I decided to really talk about DANGDUT, I asked Ms. Alay as my mentor and editor for my speech. I thought that she was a little bit surprised with my topic selection, but she just gave me an 'authority' to choose the best topic for me. So, I started writing up my speech. Of course with some parts of speech that Faifai used to give me in Senior High. And I also put a little part of a song to it. J *thank you, Faifai!*
While I was working on my speech, Ms. Pujay were busy looking for a replacements of Janu's part and also found out that our debate team in Cirebon was not lucky enough  to pass to the next round. She eventually picked Genta. Genta chose the 2nd theme of the speech, which was, Becoming Indonesian youth in the cyber space.
All of us went to the Technical Meeting together on Saturday, 19th of May 2012 @UNPAD Dipati Ukur but without Tia. At the TechMeet, we picked our number of order of appearance. Genta picked along my number. Till I found out, that I got number 4 and he got number 15. But I urged him to switch the number. Haha! So, I got 15, then he got 4. J The committee actually allowed us to switch our number to other participants from different campus who were willing to change the number, before the official order of appearance were announced. So, there was a girl from Universitas Padjadjaran who got number 6. But she actually prefer number 4 to number 6, we knew it right after I asked her whether she wanted to switch her number with Genta or not. Then she said, that she agreed to switch her number with genta's. So at the end, I got number 15 and Genta got number 6.
I already had my speech in my hands when the TechMeet was held. So all I needed to do was just memorizing the whole paragraphs, then it would make me easier to convey it to the audience. But it was different with Genta. Because Ms. Pujay told him to replace Janu right on Friday, one day before the TechMeet. He used to have only 5 days to go before the deadline of the speech text submission, started on Saturday, 19th of May 2012-the TechMeet day-. (we had to send/submit our speech text  to the committee via e-mail on Wednesday, 23rd of May 2012).
But, we were still on Tuesday- I guess-, when Genta told Ms. Pujay that he couldn't join the competition due to the making of E-KTP on Friday, May 25, when we're going to have a qualification round when all we needed to do just conveying our speech, before having a final round on Saturday, May 26, when we're going to get some questions from the juries right after conveying our speech in front of people.
So, what do you think with Ms. Pujay? HAHA!
At the last minutes, Ms. Pujay decided to choose Riska Purnama Sari-one of my friend from SICE- as Genta's replacements. And I just felt guilty and sorry, 'cause I couldn't help her much on her speech. Ms. Pujay told Riska PS about this commutation on Wednesday afternoon, when actually she was having a practice of English Play for her Conversation Class assignment with some of her friends. She had one more day to memorize her whole speech and within a night she must submit her speech via e-mail. Can you believe it? I just accompanied her doing her speech in ECD-English Competence Division- room.
*sorry, PS!*
On the next day, one more day to go before the qualification round, we had our last practice at ECD. Riska PS just did her butt off. I could see how hard she tried, while I was just doing my Public Speaking class assignment that must be sent by that day and also checking the Crossing 2012's website for the last time before the next day. I found that based on the schedule from the website, the speech competition would be in Graha Sanusi. Then I was just like; "WHAT?". Because 1st, when we're having the TechMeet, the committee said that the speech competition would be held in Bale Rumawat, not in Graha Sanusi. 2nd, Graha Sanusi is so huge for speech-for me-. Haha!
Friday morning, we went to UNPAD Dipati Ukur by Angkot. Haha! And so pathetically again without any supporters or any English lecturers on our side. L I entered Graha Sanusi for the first time when we're having a re-registration, till I found out that the venue for the speech competition itself was officially in Graha Sanusi. I was just actually shocked. 'cause that was still my 2nd chance to speech, but I have to stand up in that huge auditorium. Well, it deserved to be tried, right? So, I calmed myself down, while waiting the emcee called for my number.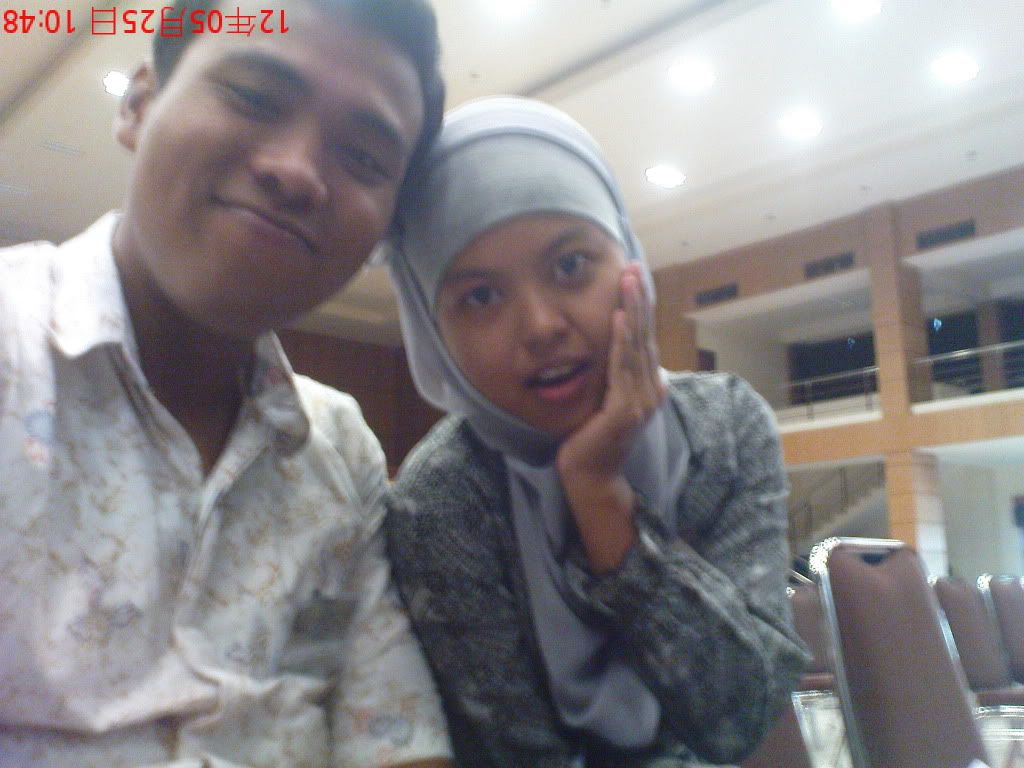 Oh yeah, the venue for the poetry-reading was in Bale Rumawat. Right after re-registering in Graha Sanusi, Tia and Lia directly went to Bale Rumawat. Tia got number 5 and Lia got number 6. They had 2 sessions for it. First session, they had to read the compulsory poetry-committee's selection-, which was The Road Not Taken by Robert Frost. And on the next session, they should read their own poetry selection. Both of Tia and Lia chose Death by Emily Dickinson. They just had a break for the 1st session of poetry-reading competition and entered Graha Sanusi right when the emcee of speech competition mentioned Riska PS's name to come forward. So, we're watching Riska PS performed together.
We ended up the 1st session of speech competition with number 10, then we had a break for Sholat Jum'at and had a lunch together.
Then each competition was started again. Lia and Tia went to Bale Rumawat, and Riska PS and I stayed at Graha Sanusi. The number 11 and 12 already came up to the stage and conveyed their speech. But then the emcee called my name and of course I should come forward. My heart bumped very fast, 'cause it had to be number 13 and 14 before I came forward. But the emcee just mentioned my name right away. Then I stood up on the stage, took a deep breathe, and started to say : "Good Afternoon, Ladies and Gentlemen and bla bla bla bla…". I also sang a little part of Project Pop's Dangdut is The Music of My Country before really really ending up my speech. Haha!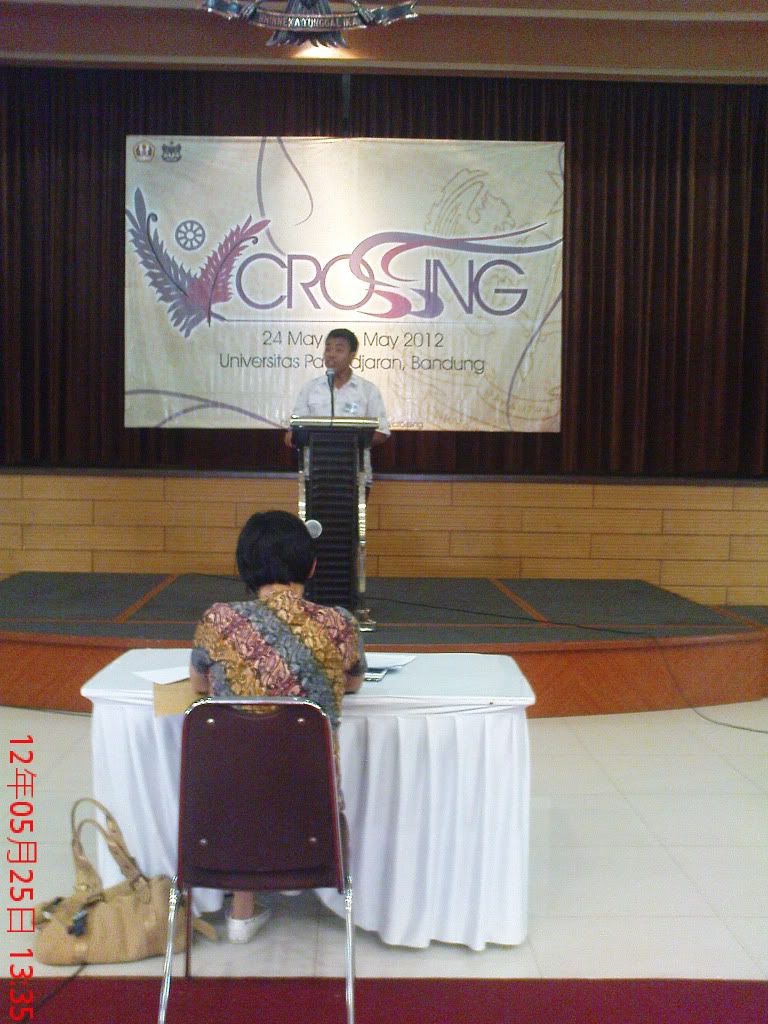 Right after delivering my speech, Riska PS and I went straight to Bale Rumawat to watch the rest participants of poetry-reading that had not performed yet. Hoping that Tia and Lia also hadn't performed, so we could watch their performances. And yes, they hadn't performed their 2nd performances yet when we entered Bale Rumawat. So, it was Tia's turn before Lia's. We just enjoyed their performances plus the other students' performances when I decided to take Riska PS to get back to Graha Sanusi to see how was it going.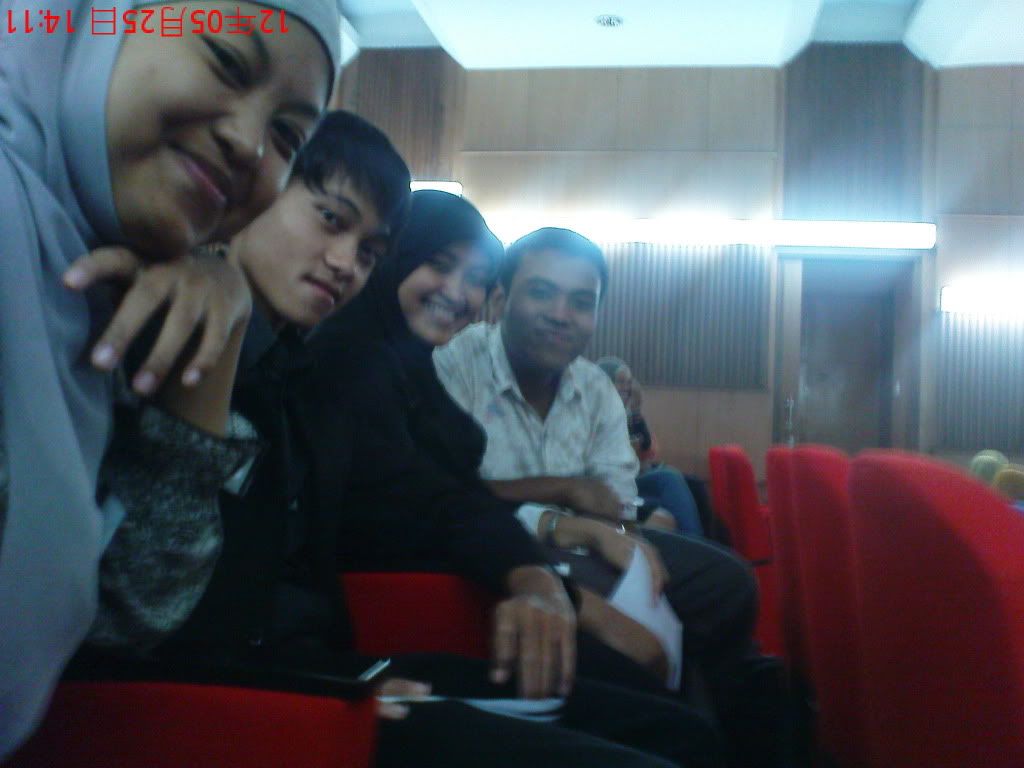 When we got back to Graha Sanusi, there were 2 more participants that hadn't performed yet and had to wait for Sholat Ashar. It was 3rd session of the competition when the last 2 participants performed. After they performed, the committee gave the juries 30minutes to accumulate the scores of each participant.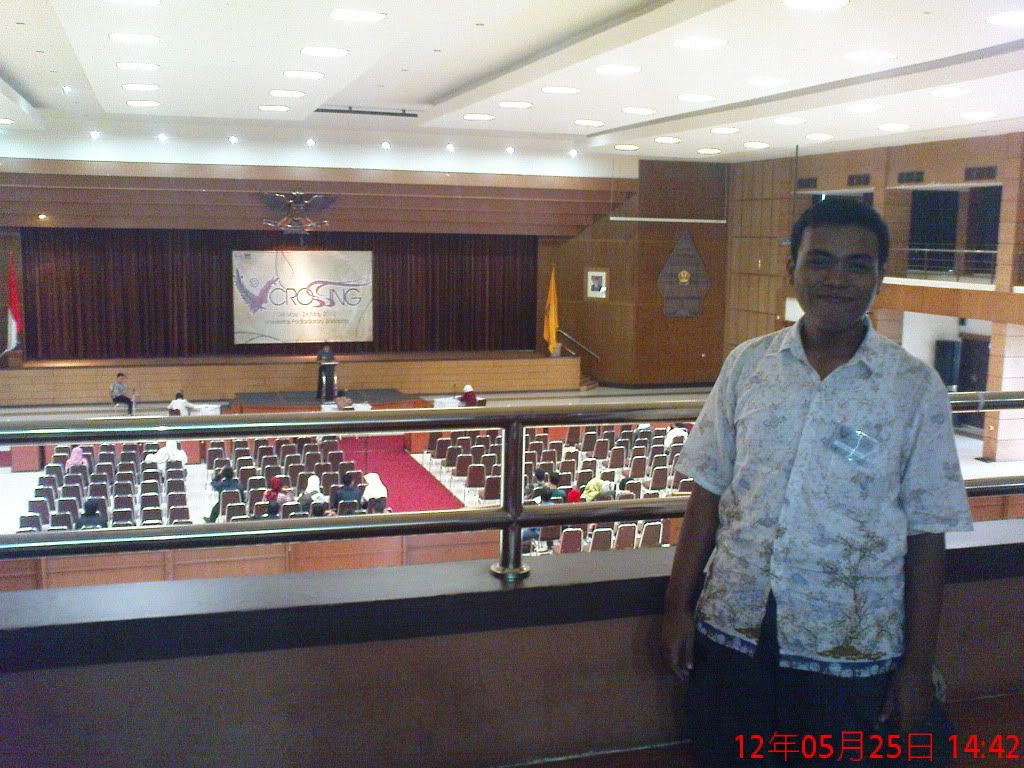 We waited until the finalists were announced and should compete on the next day. There would be 6 finalists from Senior High students-3 finalists from Speech and 3 finalists from poetry-reading-. And from University students there would be also 6 finalists, just like the Senior High.
My name was mentioned the last as one of 3 finalists for Speech from University student, and the other 2 came from the same institution, UNIKOM Bandung. They were both actually close enough with me and Riska PS since the beginning of the qualification round. And they were girl and also took English literature on their 4th semester.
But sadly, it was only me who made it to the next round.
On Saturday, I went to campus first to have my Graphic Design class before heading to UNPAD at 11.45 AM. I was just by myself 'cause most of my SICE friends were having class at 1 PM. So that day even way worse than the previous day. No fellow friends, no supporters, no English lecturers on my side.
I went straight to Graha Sanusi for re-registering. While signing my attendance, the committee told me that the final round for both speech and poetry-reading would be in Taman Hukum(in front of Bale Rumawat). Well at first I was just cool with that, before knowing that there would be no Microphone. So, my question was: "Should I yell out loud?". Damn! I surprised knowing that, when the emcee for final round told all the finalists that it was a final round challenge. We had to deliver our speech or poetry to all audience without microphone. Well, perhaps it would be okay for poetry-reading, but it was gonna be different for speech-ing. Then we would also get a Question from each jury and perhaps some audience right after delivering our speech. So, it was like a double-challenge for speech, right?
I got number 4 for this round. It was still number 2 who performed when eventually Teh Lai and Teh Uzi came up. I finally had my supporters. Haha! A couple minutes before my name was mentioned, came up also Rudolf and Riska Pro. So, they quite gave me a spirit to stand very close to the juries.
The emcee called my name and I came forward and started delivering my speech when Ms. Alay eventually came up and directly joined the audience to watch my speech. She was standing right next Teh Lai, behind one of the juries table. We had 3 juries for both speech and poetry-reading.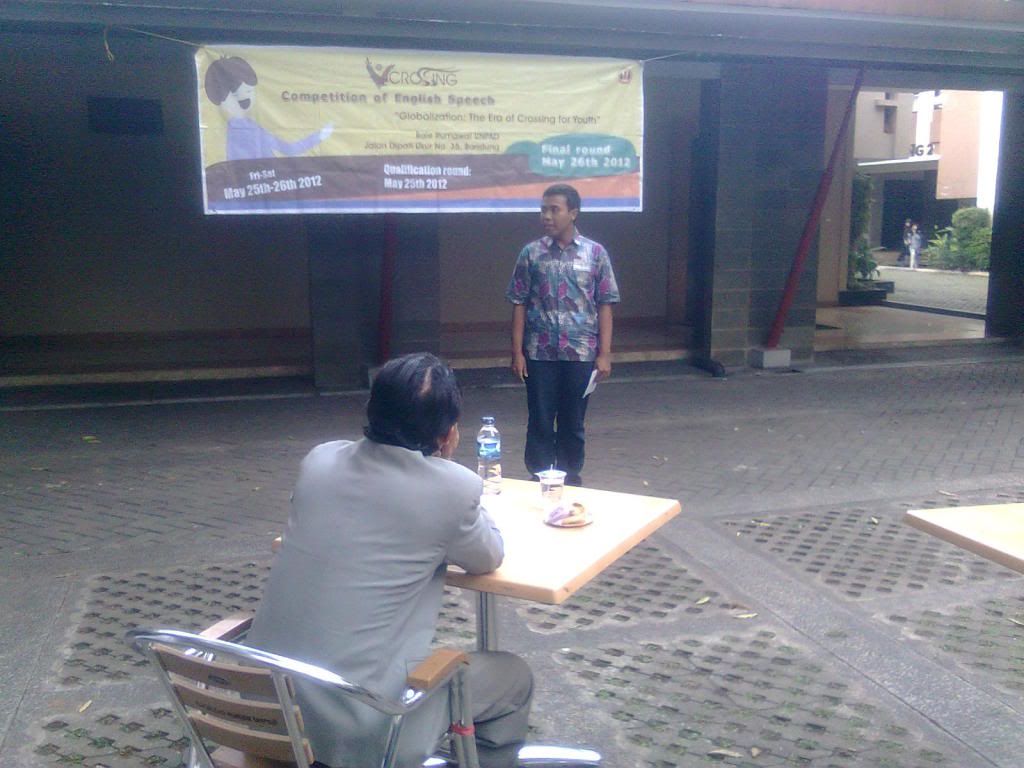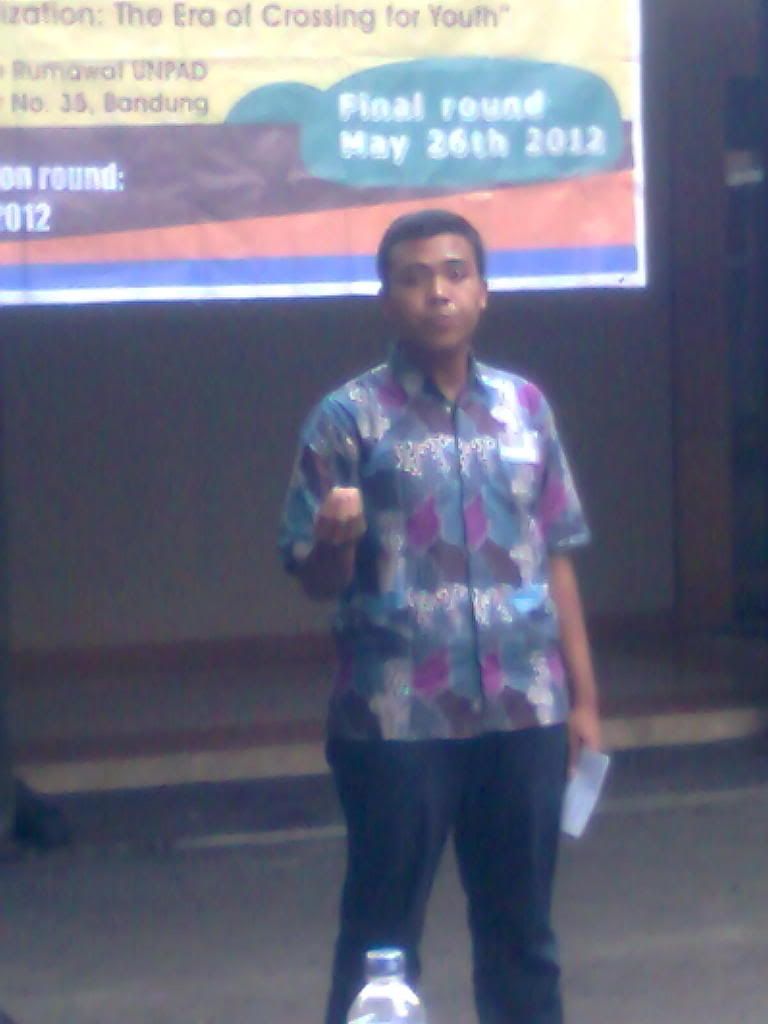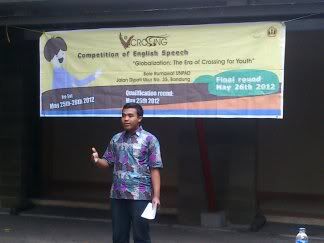 When I ended up my speech, I got one question from each juries and also some questions from Mr. Jeman, one of the committee who were being one of the audience that time, and also used to be the emcee for the qualification round in Graha Sanusi. I was nervous enough for this session, 'cause we never expected what were their questions would be, right? So, I just answered them right away.
When all the finalists from both competition were already delivering their things. We had a break for Sholat Ashar and needed to go back to Graha Sanusi for the closing ceremony, when the winner from both competitions would be revealed. Rudolf was also leaving, 'cause he must prepare to go to his Church.
We sat in the very behind of the seat and waiting for the announcement. It was one of the juries who stood up and delivered a couple words when he was closing it with announcing the winner for speech competition. And it was my name that he mentioned first and I was not really paying attention to it. Haha. All I heard that I got 65 score, from all I knew that the perfect score was 70. So, I quite impressed with the result.
The emcee eventually asked all the mentioned names to come forward to the stage. I finally knew that I was at the first place of speech for university category. Haha! And after the speech, the emcee announced the winner of the poetry-reading. We found out that a girl who has the same name with me-SUKMA- from UNPAD as the 1st winner for university category. All finalists who made it to final round were actually already won the competition. All we hadn't known was who were gonna be at the 1st, 2nd, or 3rd places.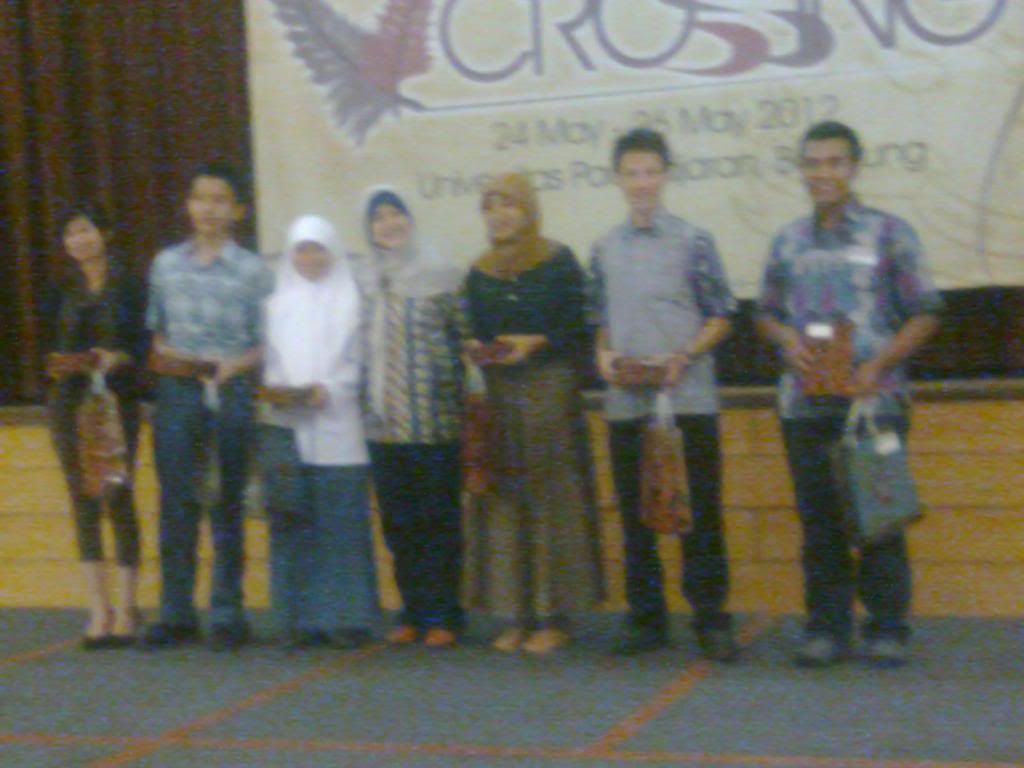 We ended up the closing ceremony with all the 1st places came forward again delivering their own things for the last time. After that, we took a couple of pictures before heading home.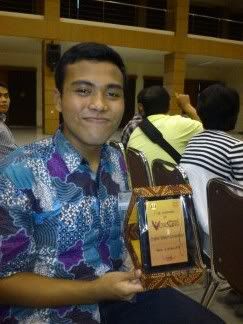 But I was actually not heading home right after it. I took a few times to join BEC-Bandung English Club- gathering @Om Dulleh. It was also my first time to join the gathering. I just stayed there not very long time, then I decided to leave, 'cause I need a rest.
But actually I was having dinner with Riska Pro after leaving the BEC gathering at 'AYAM GORENG PINGGIR JALAN' nearby Borromeus Hospital. Then Angkot was always being my faithful friend to take me home that night. Haha!
So, that's all perhaps!
I wanna say a big thanks to 1st of all ALLAH SWT for this 2nd chance, Ms. Pujay and Ms. Alay-all lecturers in ECD- for being such a great mentor, SICE for giving me such a great support, Rian for accompanying me to find Batik & new pair of shoes for the final, Ms. Erika for a pinch of the advice at the qualification round, for all my HUMAS friends who always send their prayers to me, for all my English teachers since my first time having English subjects at elementary school till Senior High, and of course last but not least for Faifai who will always be a good friend of mine even though we never meet each other, THANK YOU!
For more photos : HERE